(VIDEO) Watch: Jurgen Klopp responds to Jude Bellingham move and reveals Liverpool's January transfer plans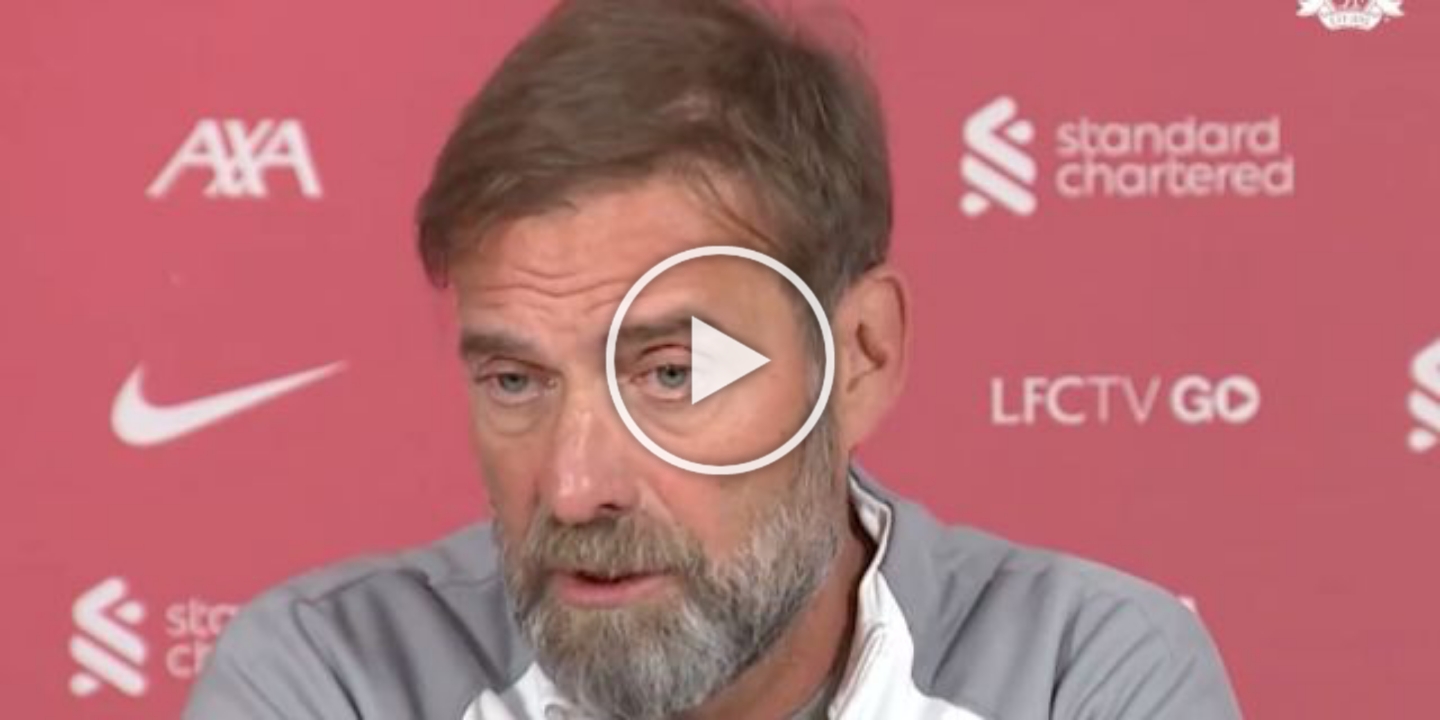 (VIDEO) Watch: Jurgen Klopp responds to Jude Bellingham move and reveals Liverpool's January transfer plans
Jurgen Klopp smiled when he was asked about the prospect of signing Jude Bellingham in January and claimed he's the 'wrong person to ask'.
The Borussia Dortmund youngster is believed to be the Reds' top transfer target but any potential deal is likely to be struck at the end of the season.
The 19-year-old impressed for England at the World Cup , which only increased interest in his services from other clubs – with Real Madrid, Manchester City, and Manchester United reportedly joining the Reds in showing interest in his signature.
Other than Bellingham, the Anfield outfit have also been linked with Sofyan Amrabat and Enzo Fernandez following their impressive performances in Qatar for Morocco and Argentina respectively.
Klopp didn't give much away, however, and claimed his side 'are probably looking' to make signings but will have to wait and see.
Pressed for comment on the likelihood of a move for the 19-year-old in the next few weeks, Klopp laughed as he replied: "In January? I'm the wrong person to answer that, you will have to ask other people about that."
He went on to add: "January, in our situation, is a window from a sports side we are always prepared, it's always clear what kind of ideas we have or how the necessity is from our point of view.
"All the rest doesn't lie 100 per cent in our hands and we always work with what we've got, and that will not change. You can imagine the situation we are in that we are probably looking. If something happens, we will see."
Bellingham has also recently discussed his ambitions as speculation over his next move continues, with the Dortmund midfielder revealing: "I want to win way more, and I want to continue to push the boundaries of my own potential and talent."
Jurgen Klopp's reaction when asked on Jude Bellingham for January window 🔴 #LFC@SkySportsPL 🎥⤵️ pic.twitter.com/eGkqODKAwU

— Fabrizio Romano (@FabrizioRomano) December 23, 2022
Disclaimer: This video is provided and hosted by a 3rd party server. Sportelo helps you discover publicly available material throughout the Internet and as a search engine does not host or upload thisju material.
In other news, Liverpool have submitted £88million offer to sign World cup winning midfielder who Messi loves
Liverpool could be set for major transfer boost after Man City charges
Liverpool could be set for major transfer boost after Man City charges
Borussia Dortmund superstar Jude Bellingham, who is a target for Liverpool, and Pep Guardiola, the manager of Manchester City.
Liverpool will publicly declare that it is none of their concern, but it would have been only natural for them to have taken an interest in Manchester City's situation this week.
After being charged on Monday with more than 100 alleged financial regulation violations, City, who have won three of the last five Premier League championships by a single point over Liverpool, are currently in the midst of an unusual moment in the history of English football.
The inquiry, which was launched in December 2018 following the publication of documents by the German website Der Spiegel that were first made public by Portuguese hacker Rui Pinto, will now be forwarded to a commission.
Allegations that City have inflated sponsorship, secretly increased important figures' salary, and disregarded rules regarding how approaches to young players are allowed might result in serious fines, point deductions, or possibly expulsion from the league, according to reports.
Liverpool, who may profit from such a horrific event, is likewise interested in talk of retroactively depriving them of their titles.
But there is at least the air of ambiguity around the Etihad that those at Anfield could benefit from while the matter awaits a resolution—one that must be emphasised that is not expected imminently.
In other news,Arsenal and Liverpool set to battle for England international in the summer