Liverpool have submitted £88million offer to sign World cup winning midfielder who Messi loves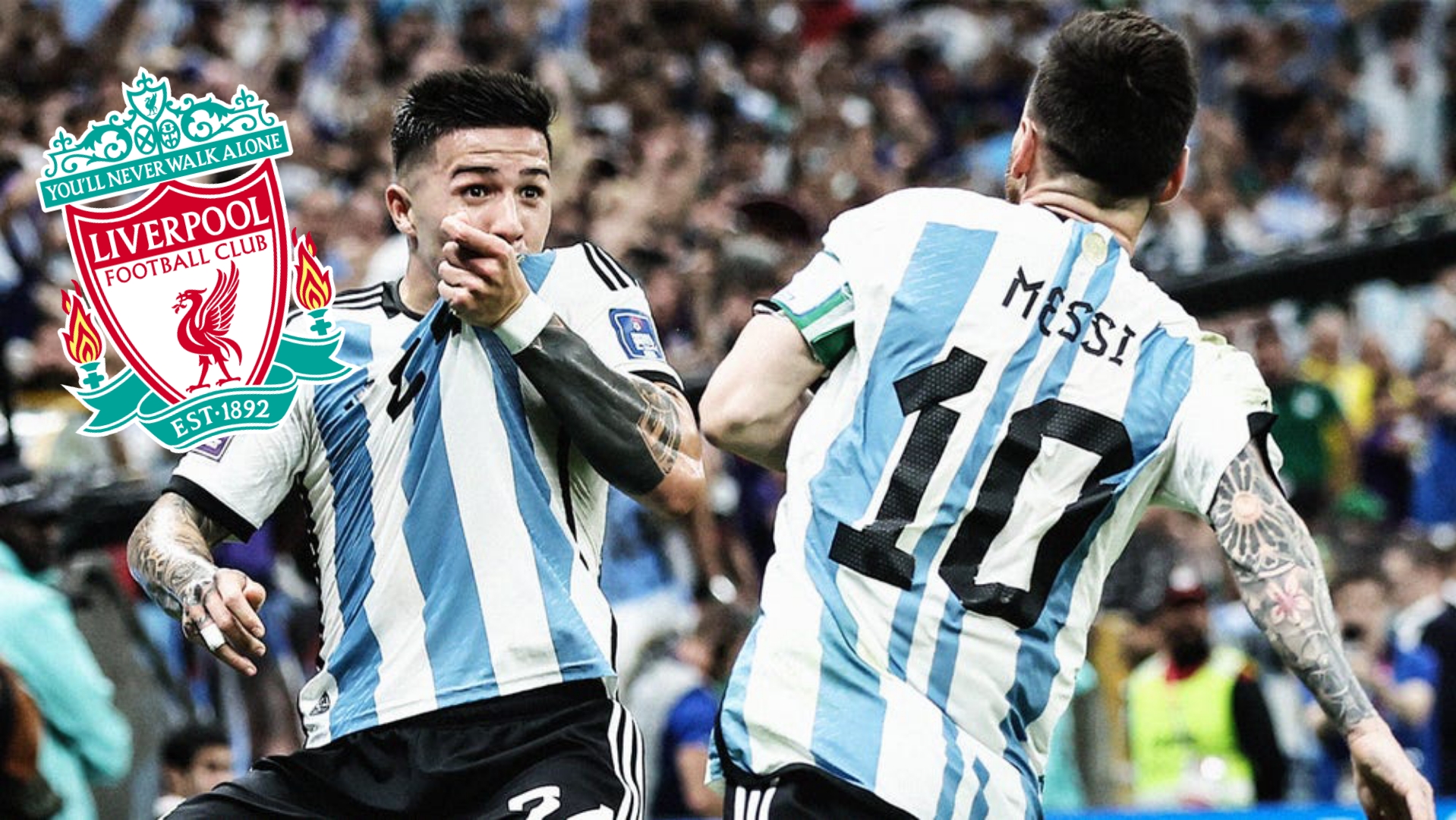 Liverpool have submitted £88million offer to sign World cup winning midfielder who Messi loves
Liverpool seem serious about completing the signing of Benfica and Argentine midfielder Enzo Fernandez and as per the latest update, the Reds even made a bid.
The Anfield club and his agent have an agreement to make the move, which is the Argentine international's first priority.
Yesterday, it was reported by Correio da Manha (news image below) that Liverpool made a bid of £88 million (100 million euros) to entice Enzo Fernandez. However, Benfica declined to accept it.
The Eagles will only sell their greatest asset if the release clause of 120 million euros is reached, according to a renowned Portuguese news source.
The Estadio da Luz team agreed to a fee for 18 million euros (10 million in cash and 8 million in variables) with Argentine side River Plate, and the 21-year-old came to Portugal last summer as a result.
Benfica now enjoy a commanding lead in the Liga Nos standings, and CdM asserts that Rui Costa wants to keep Fernandez since the club's sports project is his primary priority.
But if Liverpool decides to exercise the 120 million euro release clause, the president will be powerless.
It must be recalled that the Merseysiders spent a fortune last summer to get Darwin Nunez from the Premier League's powerhouses.
In the first half of the season, Fernandez was very impressive for Benfica. He was also an important part of the Argentina team that won the World Cup on Sunday by defeating France on penalties.
Throughout the competition's knockout phases, the youngster played every single minute.
In other news, (VIDEO) Watch: Fabio Carvalho's sublime finish to level the game for Liverpool against Man City
Liverpool could be set for major transfer boost after Man City charges
Liverpool could be set for major transfer boost after Man City charges
Borussia Dortmund superstar Jude Bellingham, who is a target for Liverpool, and Pep Guardiola, the manager of Manchester City.
Liverpool will publicly declare that it is none of their concern, but it would have been only natural for them to have taken an interest in Manchester City's situation this week.
After being charged on Monday with more than 100 alleged financial regulation violations, City, who have won three of the last five Premier League championships by a single point over Liverpool, are currently in the midst of an unusual moment in the history of English football.
The inquiry, which was launched in December 2018 following the publication of documents by the German website Der Spiegel that were first made public by Portuguese hacker Rui Pinto, will now be forwarded to a commission.
Allegations that City have inflated sponsorship, secretly increased important figures' salary, and disregarded rules regarding how approaches to young players are allowed might result in serious fines, point deductions, or possibly expulsion from the league, according to reports.
Liverpool, who may profit from such a horrific event, is likewise interested in talk of retroactively depriving them of their titles.
But there is at least the air of ambiguity around the Etihad that those at Anfield could benefit from while the matter awaits a resolution—one that must be emphasised that is not expected imminently.
In other news,Arsenal and Liverpool set to battle for England international in the summer