How Liverpool beat Man United to reach £45m transfer agreement for Cody Gapko as PSV confirms deal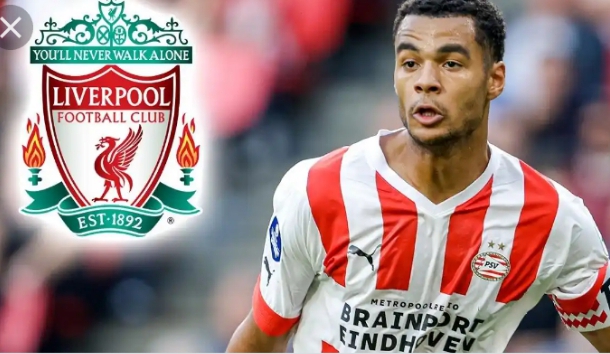 How Liverpool beat Man United to reach £45m transfer agreement for Cody Gapko as PSV confirms deal
PSV will receive a record transfer when Dutch international Cody Gakpo leaves for Liverpool, according to the club's general manager Marcel Brands.
Liverpool and PSV Eindhoven have reached a deal for the Dutch striker Cody Gakpo to join the Reds for £45 million in the January transfer window.
The news was confirmed by PSV general manager Marcel Brands on the club's website. The Reds are expected to part ways with an initial £37 million for the Netherlands international, and the Eredivisie side eventually receives a record fee for a player.
Gakpo impressed for his nation during the 2022 World Cup in Qatar, where he was on target three times before the Netherlands were knocked out in the quarter-finals by eventual winners Argentina.
Erik ten Hag and Manchester United showed considerable interest in the 23-year-old, but according to Mirror Sport, the Red Devils toyed in making a bid for the striker and wanted to cover more of the transfer money in add-ons.
Liverpool, on the other hand, was content to pay a higher sum upfront, and because PSV agreed to their offer, they were able to ruin Man United's transfer.
Liverpool have been without the injured Diogo Jota, Luis Diaz, and Roberto Firmino this season, and Gakpo will provide Darwin Nunez with competition for a place in the starting XI.
The striker was given permission to fly to the UK this Boxing Day to complete his transfer to Liverpool, which is set to be officially announced as soon as the January transfer window opens.
A PSV spokesperson wrote on the club's official website: "PSV and Liverpool FC have reached an agreement on the upcoming transfer of Cody Gakpo.
"The 23-year-old attacker will immediately leave for England where he will undergo the necessary formalities to complete the transfer. Both clubs are not making any announcements about the transfer fee."
PSV general manager Brands added: "But this is a record transfer for PSV."
In other news, DONE DEAL: Liverpool complete the signing of world cup Breakout superstar and PSV winger
Liverpool could be set for major transfer boost after Man City charges
Liverpool could be set for major transfer boost after Man City charges
Borussia Dortmund superstar Jude Bellingham, who is a target for Liverpool, and Pep Guardiola, the manager of Manchester City.
Liverpool will publicly declare that it is none of their concern, but it would have been only natural for them to have taken an interest in Manchester City's situation this week.
After being charged on Monday with more than 100 alleged financial regulation violations, City, who have won three of the last five Premier League championships by a single point over Liverpool, are currently in the midst of an unusual moment in the history of English football.
The inquiry, which was launched in December 2018 following the publication of documents by the German website Der Spiegel that were first made public by Portuguese hacker Rui Pinto, will now be forwarded to a commission.
Allegations that City have inflated sponsorship, secretly increased important figures' salary, and disregarded rules regarding how approaches to young players are allowed might result in serious fines, point deductions, or possibly expulsion from the league, according to reports.
Liverpool, who may profit from such a horrific event, is likewise interested in talk of retroactively depriving them of their titles.
But there is at least the air of ambiguity around the Etihad that those at Anfield could benefit from while the matter awaits a resolution—one that must be emphasised that is not expected imminently.
In other news,Arsenal and Liverpool set to battle for England international in the summer