Liverpool set for 'star exodus' as star tipped to leave Anfield after Cody Gakpo transfer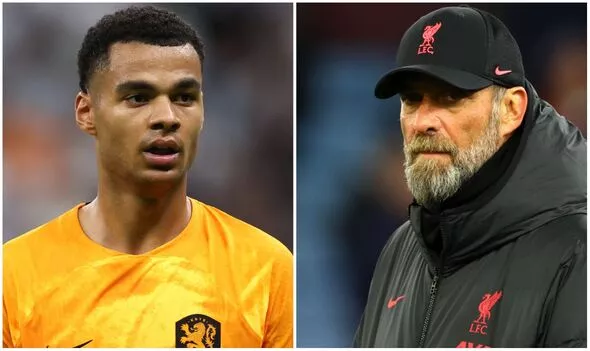 Liverpool set for 'star exodus' as star tipped to leave Anfield after Cody Gakpo transfer
Liverpool may have to sell one of their stars after signing of Netherlands International Cody Gakpo.
Liverpool have been warned they are facing a "sad exodus" as one of their stars Roberto Firmino has been tipped to leave the club following Cody Gakpo's signing.
The Reds beat Manchester United to what could become a £50million deal for the Netherlands forward, as Jurgen Klopp's side are set to bolster their forward options following injuries to Luis Diaz and Diogo Jota.
The dual are not expected to return before February, as Liverpool fielded Alex Oxlade-Chamberlain on the left in their 3-1 win over Aston Villa on Boxing Day. The former Arsenal man's contract is up at the end of the season alongside team-mates Firmino and Naby Keita, and all three could be set to leave the club in the summer.
Former Chelsea striker Tony Cascarino has tipped the Brazilian forward to leave on a free transfer at the end of the season following the capture of Gakpo by the Merseyside club.
"Wow, more goals," Cascarino told talkSPORT. "Just think, they've got Diogo Jota, Luis Diaz, Mohamed Salah, Darwin Nunez who you'd like to think will chip in with more goals, and now Gakpo, who is only 23 years old.
"The most surprising thing about Gakpo is that he's 6ft 4in but he's not your traditional center-forward. He's very athletic, he's very quick.
"He's so versatile that you can play him in any position in the forward line – and that's typical of a Klopp signing, that he likes to use certain layers in different positions. He added.
"But, I think there will be a sad exodus for some players who have been terrific for Liverpool but have their contracts running down. And I think that will be Firmino in the summer."
Both Firmino and Salah have scored seven goals so far this season, they are Liverpool's top two scorers in the Premier League. The 31-year-old has continued to play a key role for the squad despite being more on the fringe after Jota, Diaz, and Nunez were signed in recent years.
There have been questions regarding his future, however, as his deal is up at the end of the season and he has been linked several times with a move to Juventus.
Brazilian outlet UOL reported that the Reds have held talks with Firmino over a new contract for a further one or two years, but they are not keen on a longer-term deal.
Firmino is open to speaking to foreign clubs from January 1 regarding a pre-contractual agreement and would be free to negotiate a potential deal with Juventus, but his priority reportedly is to remain at Anfield.
In other news, Arsenal superstar Martin Odegaard reveals his 'big goal' as he's asked about Liverpool transfer
Liverpool could be set for major transfer boost after Man City charges
Liverpool could be set for major transfer boost after Man City charges
Borussia Dortmund superstar Jude Bellingham, who is a target for Liverpool, and Pep Guardiola, the manager of Manchester City.
Liverpool will publicly declare that it is none of their concern, but it would have been only natural for them to have taken an interest in Manchester City's situation this week.
After being charged on Monday with more than 100 alleged financial regulation violations, City, who have won three of the last five Premier League championships by a single point over Liverpool, are currently in the midst of an unusual moment in the history of English football.
The inquiry, which was launched in December 2018 following the publication of documents by the German website Der Spiegel that were first made public by Portuguese hacker Rui Pinto, will now be forwarded to a commission.
Allegations that City have inflated sponsorship, secretly increased important figures' salary, and disregarded rules regarding how approaches to young players are allowed might result in serious fines, point deductions, or possibly expulsion from the league, according to reports.
Liverpool, who may profit from such a horrific event, is likewise interested in talk of retroactively depriving them of their titles.
But there is at least the air of ambiguity around the Etihad that those at Anfield could benefit from while the matter awaits a resolution—one that must be emphasised that is not expected imminently.
In other news,Arsenal and Liverpool set to battle for England international in the summer