Arsenal superstar Martin Odegaard reveals his 'big goal' as he's asked about Liverpool transfer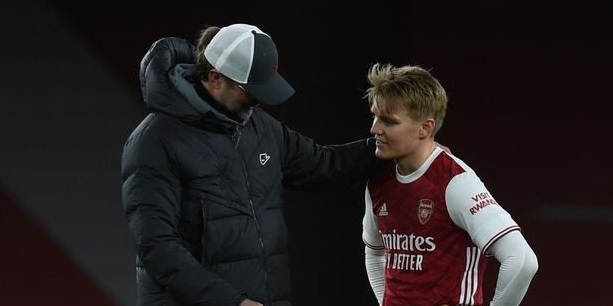 Arsenal superstar Martin Odegaard reveals his 'big goal' as he's asked about Liverpool transfer
Martin Odegaard has dismissed the prospect of leaving Arsenal for Liverpool, Insisting he wants to stay at the Emirates for "many years,"
The Norwegian international, who grew up cheering for Jurgen Klopp's team at Anfield, was asked about the possibility of joining them, but instead spoke about how much he is enjoying life in London while the Gunners currently sit atop the Premier League standings.
"There is not much that can lure me away from here," the Norwegian told NRK (via the Metro). "I have a very good time here.
"The way it is now, I can see myself being here for several years.
"I want to do something special here. Take part in shaping the club and winning things. That is the big goal. The plan is certainly to be here for a while.
"I've moved a lot over the years. Landing a bit and feeling like I'm in a place where I'm going to be, that's a good feeling. Hopefully I will be here for many years.
"When I came here, I really felt at home from day one. I was received very well, everything was very natural. I felt like part of the team and the group from the start, so it felt very good to come here.
"Very nice people in the club. People who care about you and who really want you to succeed. Who really tries to do their part for you to succeed. And who have a bit of the same passion that I have, I feel, to really get better and work on things then. It was a good match right away."
The Ex Real Madrid man has impressed for Mikel Arteta's side this term.
The 24-year-old has six goals and two assists in 13 Premier League appearances and he's one of the main reasons why the Emirates outfit are currently four points clear at the top of the table (at the time of writing).
In other news, How Liverpool beat Man United to reach £45m transfer agreement for Cody Gapko as PSV confirms deal