"gave balls away"-Jurgen Klopp slams £200,000-a-week player following Liverpool's dismal performance against Chelsea
"gave balls away"-Jurgen Klopp slams £200,000-a-week player following Liverpool's dismal performance against Chelsea
Liverpool boss Jurgen Klopp has criticised Thiago on the club's official website for his performance against Graham Potter's Chelsea at Anfield in the Premier League on Saturday.
Klopp stated that Thiago gave the ball away far too many times, as Liverpool and Chelsea played out a goalless draw with each other.
The £200,000-a-week (Spotrac) midfielder started the match and played for the entire 90 minutes.
The former Barcelona and Bayern Munich star was deployed on the left of a midfield-three
While the Spaniard played some lovely passes, made some good decision,s and was always available for the ball, he was not at his best.
And Klopp noticed that the Liverpool midfielder was giving the ball away too much
"We were compact, we won really good balls, we caused them problems and from there then we have to do better with the ball. Klopp said.
"That's possible and it was already better than the last league game, that we really keep the balls and play from there.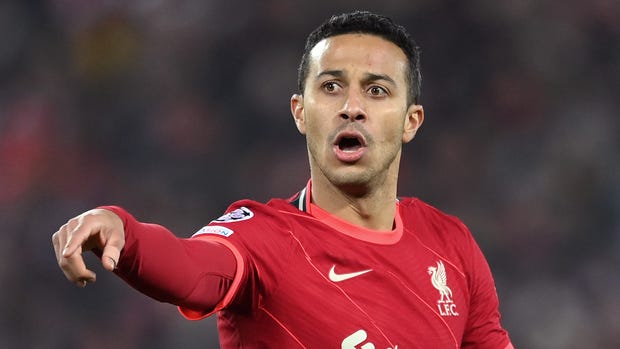 "It's like, even Thiago, who is obviously a great footballer, gave balls away, unforced errors and these kind of things. That's what we have to do better."
Liverpool and Chelsea are struggling in the Premier League at the moment, and it's looking like neither side will end up in the top four this season.
Today, we witnessed how two of England's top clubs put on a game that was far from brilliant.
Liverpool and Chelsea need to step up their game if they want to finish in the top four of the Premier League this year.
Both the Reds and the Blues have talented teams and players, so Jurgen Klopp and Graham Potter will need to help them reclaim their best form.
In other news, (VIDEO) Watch: Fans erupt after Kai Haverzt goal against Liverpool was disallowed