Jurgen Klopp failed Phone call to tempt £85m star midfielder to Liverpool
Liverpool boss, Jurgen Klopp was involved in a personal phone call with Monaco star midfielder Aurelien Tuchouameni in an attempt to bring him to Anfield.
Despite reports that Jurgen Klopp made a personal phone call to Aurelien Tchouameni, Liverpool appears to be out of the race for the Frenchman.
The Reds were expected to be leading the race for the Monaco midfielder ahead of the summer transfer window, but the Spanish giants have reportedly agreed to pay £85 million for the Frenchman.
Liverpool have been looking for a midfielder for some time, but Tchouameni is closing in on a move to Los Blancos, so they will have to look elsewhere.
Despite offers from Liverpool and Paris Saint-Germain, the player only wanted to sign for Real Madrid, according to Fabrizio Romano. A phone call between Klopp and the player was part of Liverpool's approach.
Klopp is said to have called Tchouameni as he began to explore his choices, but after giving it some thought, it was only Madrid that appealed to him. Despite the fact that PSG had offered him the most money to sign him, he declined.
Tchouameni agreed to join Madrid in Paris, ironically, just before they played Liverpool in the Champions League final. He was undoubtedly pleased with his choice after evaluating both finals, as Madrid won the match 1-0.
Tchouameni is expected to join Ferland Mendy, Eduardo Camavinga, and Karim Benzema in France, however, he will not be playing domestic football with Kylian Mbappe for the time being. Mbappe's U-turn angered Madrid's management, but they've now re-invested in Tchouameni as they wait.
Liverpool will have to search for a new player, and this is their second setback in less than a week. Klopp was rumoured to be interested in signing Barcelona midfielder Gavi, who has a £42 million release clause in his present deal.
Despite their troubles, Gavi is expected to sign a new contract, and Liverpool is said to have 'given up,' according to Sport.es.
Another aim was Jude Bellingham, but the England international has announced he will stay at Borussia Dortmund next season.
In other news, "I will like to join Liverpool" – Harry Kane sends Liverpool transfer message
"Not True"-Jurgen Klopp reacts to Andy Robertson's blunt claim that Liverpool are getting worse
"Not True"-Jurgen Klopp reacts to Andy Robertson's blunt claim that Liverpool are getting worse
Liverpool were beaten by Brighton for a second time in a matter of weeks, with Roberto De Zerbi's team following up their 3-0 league victory by eliminating the Reds from the FA Cup.
Andy Robertson's claim that Liverpool was getting worse after the FA Cup champions were eliminated from the competition, according to Jurgen Klopp, was neither true nor wrong.
At the Amex Stadium, Liverpool took on Brighton in an effort to defeat the Seagulls for the first time in three efforts this season. Although Harvey Elliott gave the opposition the lead, goals from Lewis Dunk and Kaoru Mitoma sent the Seagulls to the fifth round.
Reds Left-back Robertson spoke honestly about the team's recent decline following the game. Some may think that Klopp's choice of words when dismissing the Scottish international's suggestion was highly telling.
"It's not 100 per cent true but it's not 100 per cent wrong," Klopp said. Liverpool's defeat was their fourth since the World Cup, with Manchester City eliminating them from the EFL Cup and Brentford and Brighton beating them in the Premier League.
"Of course, we wanted a new start, that was clear after the World Cup. So far it hasn't happened properly, that's true.
"That means we have to keep working, there's nothing else you can do. There were good performances today as well, good moments which we need to build on."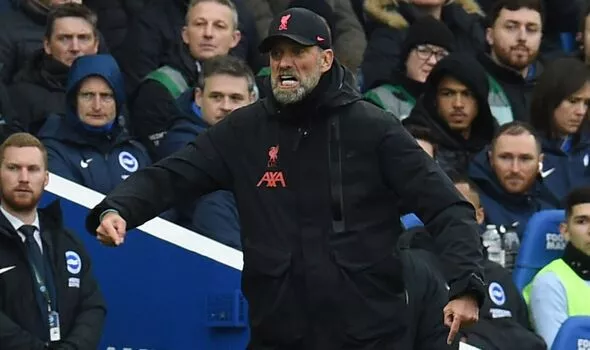 In both of Liverpool's losses to Brighton, Robertson played all 90 minutes. This time, the Merseyside club was seconds away from earning a draw and a replay when Mitoma brilliantly intercepted a cross from Pervis Estupinan and volleyed past Alisson.
"We need to start winning games," the left-back told ITV Sport. "It's easy to say, but harder to fix and it's proven that way. This season has been nowhere near good enough, at the turn of the year we wanted a new start. But it's not got off to that…it's probably been worse.
"In the league, we've not been good enough, we lost in the League Cup to Man City by one goal and now we're out of both cups. It's really disappointing. You can't put your finger on one thing because it's more than that and it's about putting a performance together where all these things click.
"You can tell we aren't as confident in front of goal and you can tell that defensively we are too open. We need to get the confidence back, but it's easier said than done.
The only way we pick up results is you have to score goals and you have to be able to keep clean sheets and we're not managing that.
"We're not managing to do that and we need to do it quickly. But we keep saying that and that doesn't help the fans. I feel sorry for them, we aren't putting a show on them at the moment."
In other news, Liverpool transfer news: Reds given Bellingham hope with last-minute deadline deal still possible