Jurgen Klopp excited as he drops Liverpool transfer hint with new players vow as £60m deal confirmed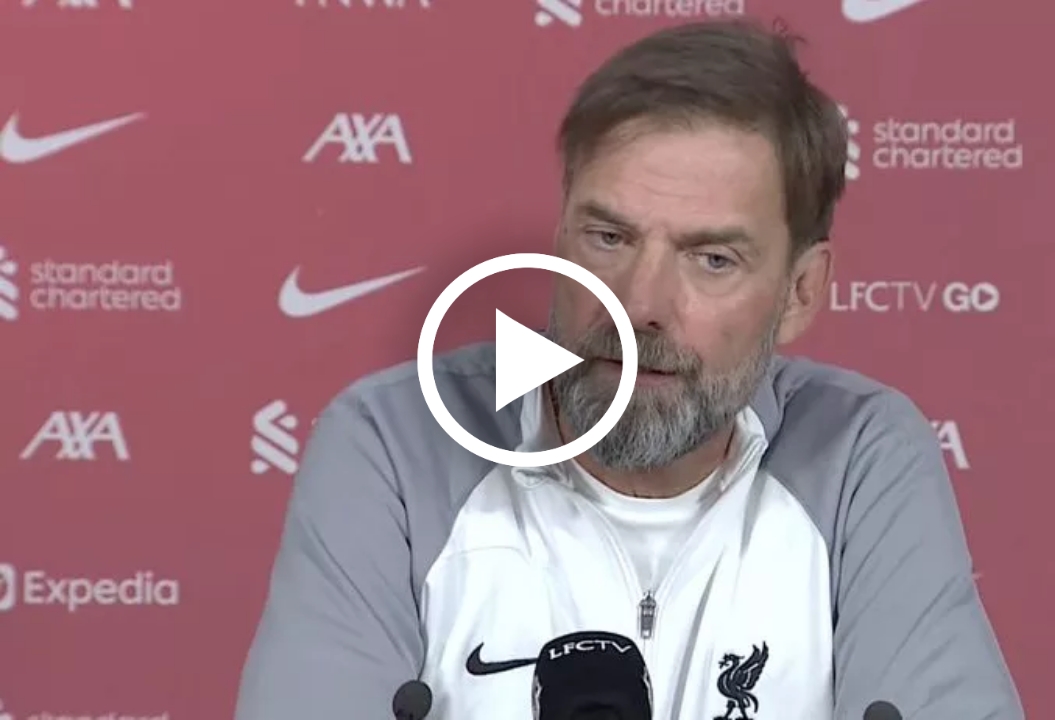 Jurgen Klopp excited as he drops Liverpool transfer hint with new players vow as £60m deal confirmed
Liverpool are widely expected to be busy in the transfer market this summer, and on the day a new £60m sponsorship deal was confirmed, manager Klopp says new players are on the way
Jurgen Klopp wants Liverpool to remodel other areas of their team just like they have done with the attack in the last three transfer windows.
The Reds added Cody Gakpo, Darwin Nunez and Luis Diaz to their squad between January 2022 and 2023, and while Diaz has sat out much of this season through injury, Gakpo and Nunez are beginning to thrive alongside Mohamed Salah in attack, with all three players scoring braces in last weekend's 7-0 demolition of Manchester United.
Salah had previously struck up perhaps the best front three in world football alongside Sadio Mane and Roberto Firmino, with the trio powering Liverpool to Premier League and Champions League glory.
Klopp knew the attack had to evolve though, and will now hope to perform similar surgery on other areas of the team, particularly his midfield.
Asked about owner John W Henry's comments this week on "responsible spending" on players, Klopp said: "It's nothing to do with names or players. John is right.
"The players we brought in last couple of transfer windows, Luis, Darwin and Cody, players in the first line. Sadio, Bobby and Mo were for a while best front line in football. Mo is now left pretty much, and Diogo [Jota] came in as well in that time. That's investment.
"This same kind [of future investment] needs to happen next."
On Gakpo and Nunez, he added: "For Cody, it went really quickly. His contribution is obvious – same for Darwin and Luis, Diogo.
"Scouting can never be perfect but you only really know a player when they are around, but we were really spot on in these moments."
Klopp's comments came on the day that Liverpool confirmed a new £60m, four-year sponsorship deal with travel company Expedia, who will remain as the club's sleeve sponsors having first struck up an agreement in 2020.
The deal is said to be worth almost double that of the previous arrangement, and comes after Henry confirmed the club were looking into investment opportunities and not considering a full scale sale.
"We're thrilled to announce the extension of our partnership with Expedia for another four years," said Liverpool commercial director Ben Latty.
"Travel is an incredibly important part of our fans' matchday experience, so we are proud to have a world leader in travel as part of the LFC family. We look forward to continuing to work with Expedia, creating more moving content and enhancing our fans' overall matchday experience."
"Surprised? A bit. I respect it a lot," said Klopp.
"It is normal in this long relationship we have. It's pretty special and I love the reception he got against Man Utd. He wants to bring this wonderful story to a positive end. The song will be here for a long time."
In other news, Liverpool secures £60m deal as Jurgen Klopp to begin huge summer transfer rebuild