Jude Bellingham decides his next club after informing Borussia Dortmund of his desire to leave after the World Cup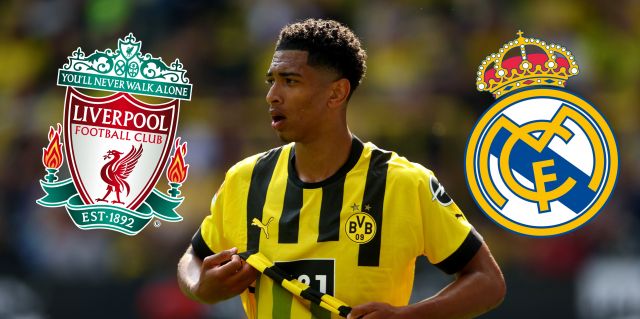 Jude Bellingham decides his next club after informing Borussia Dortmund of his desire to leave after the World Cup
Liverpool target Jude Bellingham according to to report will tell Borussia Dortmund he wants to leave the club after the World Cup.
The 19-year-already old's high profile during the World Cup has increased as a result of his outstanding performance for Gareth Southgate's team in Qatar.
It appears Bellingham has decided his future lay outside of Germany and might soon find himself in the Premier League – provided his parents get their wish. Teams have already expressed a great interest in the youngster.
According to SPORT BILD, Bellingham will tell Dortmund bosses of his desire to leave the club after the World Cup – despite having a contract that runs until 2025.
Real Madrid, Manchester City, and Liverpool, three of the biggest clubs in Europe, have all previously shown interest in the midfielder, but it appears the Reds are the favourites right now.
The youngster's deals are mainly negotiated by his father Mark, his mother Denise, and his advisor Mark Bennett. It is known that Mark is keen for his son to move to Anfield.
Bellingham is an integral part of Jurgen Klopp's team's midfield rebuilding, since many of their current stars, such as Jordan Henderson, 32, James Milner, 36, and Thiago, 31, are approaching the end of their careers.
Even though talks have already started, Liverpool still has to overcome certain financial challenges if they want to sign the highly sought-after teenager.
The same source claims that Dortmund would want a price of €150 million (£130 million) for the midfielder, which is reasonable given the high level of interest in him.
Liverpool and Mike Gordon, the director of US owner "Fenway Sports Group," have already agreed that Liverpool will provide €100 million for Bellingham, though they might fall short of the remaining sum.
Klopp would not be able to negotiate a €50 million discount, despite his close relationship with BVB Managing Director Hans-Joachim Watzke.
But with, the 'Fenway Sports Group' looking to sell the club, a new owner could help increase the Bellingham budget.
Until then, Bellingham's ever-increasing price tag may pose a big challenge to the Reds with big-budget clubs like Real Madrid and Man City eagerly waiting to pounce.
In other news, Big news coming out of Germany about Jude Bellingham that will surely delight Liverpool fans