"He will join us"- Liverpool fans make Jordan Henderson and Jude Bellingham claim after intense celebration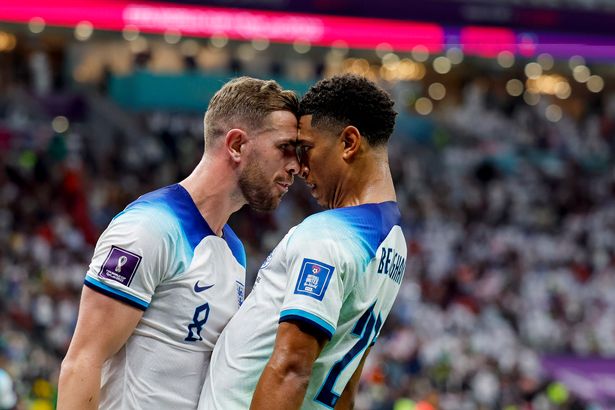 "He will join us"- Liverpool fans make Jordan Henderson and Jude Bellingham claim after intense celebration
Liverpool supporters found it difficult to contain their excitement after seeing Jude Bellingham and Jordan Henderson team up to great affect for England – and passionately celebrate together.
After a strong run from his youngster teammate, Henderson put the Three Lions ahead of Senegal in their World Cup round of 16 match on Sunday night. Up until the opening goal in the 38th minute, England had trouble creating chances, but Bellingham's talent broke through the African champions' strong defence.
Before being surrounded by their teammates, the 19-year-old and the 32-year-old Henderson engaged in a fierce staredown as they celebrated the goal. Liverpool supporters, who are still hoping Bellingham, their top transfer want, will leave Borussia Dortmund for Anfield next summer, caught sight of the bizarre moment.
The pair have been inseparable at England's base in Qatar and Bellingham has also spent plenty of time with Liverpool right-back Trent Alexander-Arnold. The teenager's celebration with Henderson has only increased speculation he could join the Merseyside giants next year.
Oneju fan on Twitter wrote: "Jude Bellingham will almost certainly join Liverpool now! That celebration with Jordan Henderson speaks volume! Thats his future club captain! The boy is talent yaz!" Another added: "Dear Jordan Henderson, just sneak Bellingham into your luggage when you head back to Liverpool."
"Bellingham to Henderson, Copy and paste Liverpool fans," remarked one supporter, while one social media user is very confident a deal for Bellingham – who is valued at over £100million by Dortmund – will be struck, writing: "Gonna be seeing that Henderson and Bellingham link up at Liverpool next season."
Henderson and Bellingham's celebration served as just another indication of their close relationship, and Liverpool supporters will undoubtedly be talking about it for weeks to come.
In other news, Is Jurgen Klopp leaving Liverpool amid Germany issues as agent breaks silence