Trent Alexander-Arnold sends Jude Bellingham six-word message as Liverpool transfer hint dropped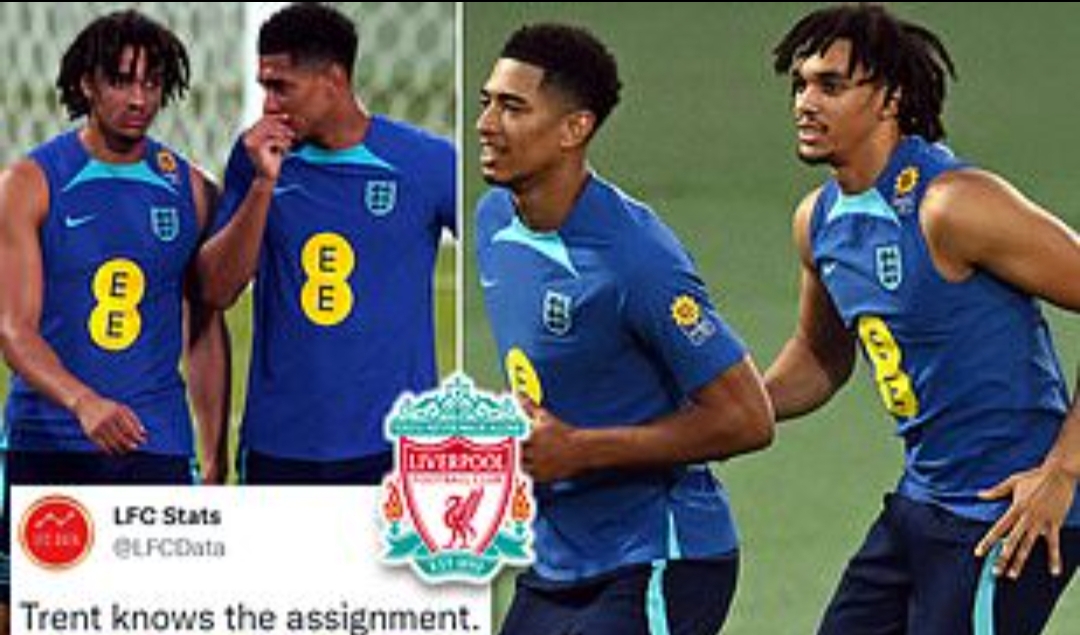 Trent Alexander-Arnold sends Jude Bellingham six-word message as Liverpool transfer hint dropped
As the upcoming transfer window approaches, Premier League clubs like Chelsea and Liverpool are preparing offers for Jude Bellingham, one of Europe's most sought-after young players.
In the midst of intense rumors surrounding the future of the Borussia Dortmund star, Trent Alexander-Arnold has delivered a message to Jude Bellingham.
Several of Europe's top teams, including Chelsea and Liverpool, have been battling for the services of the 19-year-old midfielder, who has been extensively linked with a move away from Borussia Dortmund for some time.
Chelsea has been following Bellingham for a while According to football.london
Stroll in the City with Bro @BellinghamJude 🌃💫 pic.twitter.com/06Tvkrjcdw

— Trent Alexander-Arnold (@TrentAA) November 30, 2022
West Londoners had an eye on the England international while he was a Birmingham City youth player, but when they decided not to take action, the German powerhouses swooped in and signed the young phenom instead.
According to Telegraph journalist Matt Law on the "London Is Blue Podcast," Graham Potter is looking for a new midfielder this summer due to the uncertain futures of N'Golo Kante and Jorginho. Chelsea will match any offer made in order to sign Bellingham.
According to the source, the Blues are not the midfielder's top choice, and even though Todd Boehly is rumored to "bid big," Bellingham's choice of a new team won't be determined solely by financial considerations.
So, should the midfielder decide to leave Dortmund, his friendships could play a significant role in his decision regarding his next club.
Bellingham, whose deal at Signal Iduna Park expires in 2025, was seen in Qatar with Alexander-Arnold. "Stroll in the City with Bro," the Liverpool defender captioned the picture of himself and the Chelsea target that he had shared on Twitter.
It appears that the midfielder is also close with Raheem Sterling, Mason Mount, and Reece James. After Bellingham scored in England's 6-2 World Cup victory over Iran, he shared a photo on Instagram to commemorate the momentous occasion.
The Chelsea trio, as well as his other friends and teammates, poured their hearts out in the comment area.
In other news, Liverpool makes surprising move for World Cup star – They badly need him
Liverpool set to submit massive offer to sign £75,000-a-week star before deadline
Liverpool set to submit massive offer to sign £75,000-a-week star before deadline
Liverpool have been linked with England international and Chelsea star Mason Mount and reports suggest that they can present a bid a to sign him this month.
The Three Lions offensive midfielder, who makes £75,000 a week at Chelsea, is available to be signed by the Reds in the summer, according to information published last week by The Guardian.
Recent reports from the Spanish outlet Nacional claim that Liverpool can make a firm approach to acquire Mount during the January transfer window.
The 24-year-old star's current contract at Stamford Bridge expires in 2024, and the Blues have so far been unable to reach an agreement with him on new terms.
According to the Catalan media site, the Merseysiders can make use of the contract standoff and possibly try to hire him before the transfer market closes the following week.
In the UEFA Champions League matchup that will take place against the defending champions of Europe, Real Madrid, Liverpool is currently in first place.
Key offensive players like Firmino, Jota and Diaz are out injured, on the other hand, the first choice midfield players have been out of form this season.
In such a scenario, a flexible player like Mason Mount, who can effectively play in the midfield and the attack would be a quality addition.
It must be recalled that the 2022 World Cup star scored a goal against Madrid (SF) during the 2021 CL winning season.
Furthermore, he directly assisted in two goals last season against the Los Blancos (QF), which ultimately led to the team winning the competition.
Liverpool was eliminated in the quarterfinals and lost to Real Madrid in the championship game in the previous two seasons.
In other news, Liverpool star not happy; with Klopp as he  considers leaving Anfield