"Not a league for boys…" – Callum Wilson takes a dig at Liverpool striker Darwin Nunez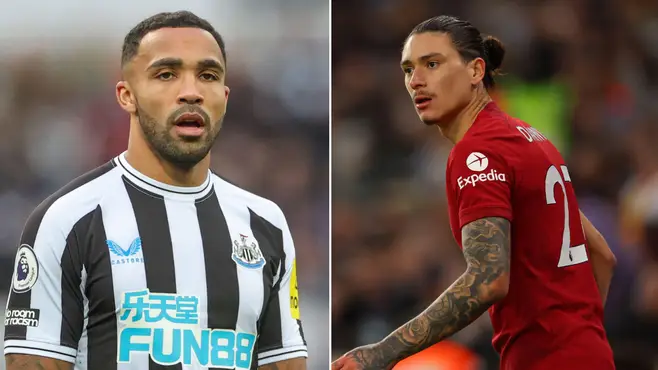 "Not a league for boys…" – Callum Wilson takes a dig at Liverpool striker Darwin Nunez
Newcastle striker, Callum Wilson believes Reds forward Darwin Nunez, will start scoring frequently once he has adjusted to English soccer.
When Nunez, 23, moved from Benfica to Liverpool during the summer transfer window, there were high hopes.
The Uruguayan international was acquired by the Reds for an initial sum of £64.2 million, which may increase to £85 million with add-ons.
Nunez has scored 10 goals in 26 appearances since moving to Anfield, a decent total, but he has been charged for being wasteful in front of goal.
He has failed to score in each of his previous five league games for Liverpool, who are currently 10th in the standings and 11 points outside the top four.
Newcastle striker Wilson sympathises with Nunez and believes it is only a matter of time before he settles in the Premier League.
"He is young, he's 23 years old, he has just come to the Premier League which is a difficult league," Wilson said on the BBC's The Footballer's Football Podcast, as reported by Anfield Watch.
"It's not a league for boys, it's a league for men and at the end of the day he's come from a league which is a little bit different.
" It's going to take him time to adapt. But there's obviously no chill on social media so any little thing that happens is becoming a big thing and he's going to see that, he's going to be sent that [meme] and he's going to see people laughing at that.
"And then it just makes you go more and more inward, especially at that age.
"He seems like a vibrant guy, like a no nonsense kind of guy, so he just has to stick his chest out and keep going. If you miss the chances, so what.
"As long as you are in position to make those chances you're not going to keep missing. The clinical finishing will come over time after he's playing more regularly and he's played in this league for a little while."
Nunez will be eager to break his goalless streak when Liverpool plays Everton on Monday at Anfield in the Merseyside derby.
In other news, Cody Gakpo reveals why he struggles at Liverpool as 'responsible' Jurgen Klopp slammed