Liverpool goalkeeper Alisson sends clear warning message to Real Madrid ahead of clash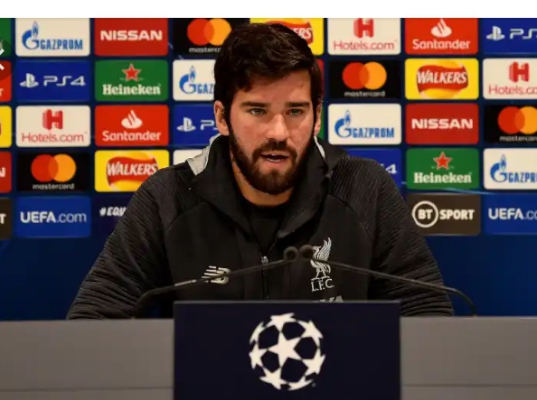 Liverpool goalkeeper Alisson sends clear warning message to Real Madrid ahead of clash
Prior to their Champions League match with Real, Liverpool has two consecutive 2-0 victories in the Premier League to give them plenty of motivation.
Liverpool's games are coming thick and fast as they resume European competition this week.
With their 2-0 victory at Newcastle on Saturday night, the Reds successfully followed up their Merseyside derby victory with back-to-back Premier League triumphs.
Real Madrid and Liverpool will play in the first of two Champions League last-16 rounds on Tuesday, will present a more difficult test.
Reds shot-stopper Alisson, is looking forward to the challenge as Jurgen Klopp and company seek retribution after being painfully defeated by Los Blancos in last season's championship League finals.
Alisson has declared that Liverpool will carry an abundance of "confidence" into their Champions League clash with Real Madrid on Tuesday.
Reflecting on Saturday's win at Newcastle and looking ahead to the challenge of Real Madrid, the goalkeeper told Liverpoolfc.com: "It was a tough match, a really good performance from our side and we're going to keep this confidence, keep the good things with us and bring it to the next game."
Also Darwin Nunez received lavish praise from former Liverpool manager Rafa Benitez after his starring role in the 2-0 victory over Newcastle.
The Uruguayan striker has a history of blowing opportunities this season, but at the weekend, he wasted no time in launching a shot beyond Nick Pope. Benitez compares Nunez's raw talent to that of Fernando Torres, who was a Merseyside fan favourite for his prolific performances prior to his controversial sale to Chelsea in January 2011.
During his tenure as manager at Anfield, Benitez worked with his fellow Spaniard and compared him to Nunez while working as a Sky Sports pundit.
In other news, "Anfield is my dream" – Liverpool now 'have to consider' move for £98m star' at Anfield