Jude Bellingham sends clear transfer message to Liverpool following strong competition from Real Madrid for his signature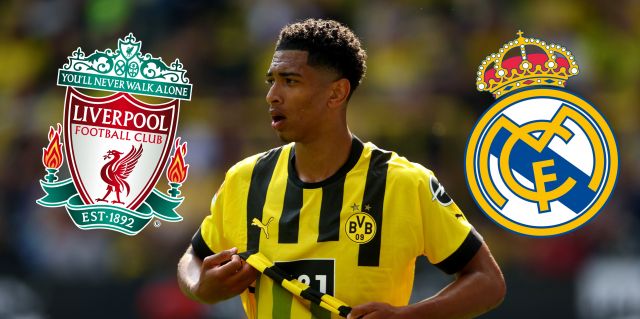 Jude Bellingham sends clear transfer message to Liverpool following strong competition from Real Madrid for his signature
Liverpool continue to be heavily linked with a move for Borussia Dortmund midfielder Jude Bellingham
In light of rumors linking him to Liverpool, Jude Bellingham has disclosed the high standards he sets for both himself and his teammates.
The Borussia Dortmund midfielder is still being linked to the Reds as a potential signing. Bellingham has been associated with the majority of the top clubs in Europe, since speculation over his future is common.
Along with Liverpool, Bellingham has also been mentioned in connection with teams like Manchester City, Real Madrid, and Manchester United. The 19-year-World old's Cup performances for England in Qatar will only have boosted his marketability.
Bellingham just gave an interview while practicing in Marbella with the Dortmund team. The midfielder has described the high standards he holds himself to, which demonstrates to people who are trying to sign him.
"You have to live with the fact that when you look at the table it says that Borussia Dortmund are in sixth [placed]," Bellingham told the club's media.
"There's no way we should be there in the table given the talent, and no disrespect to the teams above us right now.
"But I feel, in terms of the quality and in terms of player depth in positions, we should be a lot higher than what we are.
"And I'm not afraid to say to the lads and the staff, because that's where our ambitions should be.
"But it's about doing instead of talking."
In other news, Liverpool plot unique offer to edge ahead in race to sign £124m star