Journalist claims Liverpool 'are the frontrunners' to sign Top Real Madrid target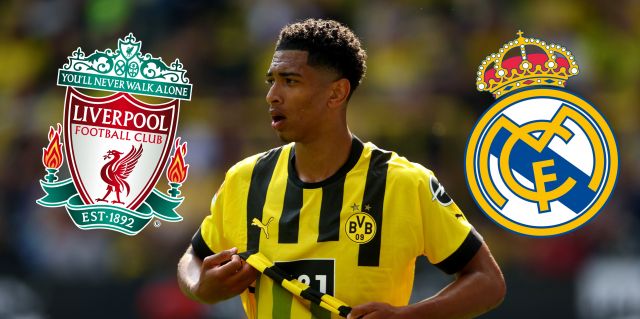 Journalist claims Liverpool 'are the frontrunners' to sign Top Real Madrid target
Journalist claims Liverpool 'are the frontrunners' to sign Real Madrid target
Liverpool have been strongly linked with a move for the England international midfielder Jude Bellingham.
GiveMeSport said that Real Madrid would be open to signing the player after the end of the current campaign as well.
The 19-year-performances old's in the Bundesliga have helped him establish a solid reputation for himself. Bellingham performed admirably for England at the World Cup, so it is not surprising that the best clubs are interested in signing him.
Journalist Ben Jacobs claims that Liverpool are the current front-runners to recruit the England player, with Borussia Dortmund apparently seeking a cost of about €150 million for his talents.
Real Madrid and Liverpool appear to have done a lot of research on a potential deal, although the Reds are willing to spend a little bit more than the Spanish club.
Jacobs said to GMS: "At the moment, I think Liverpool are the frontrunners for Jude Bellingham.
"Real Madrid have put in a lot of legwork as well and I think both of those two clubs have confidence.
"But the difference between the two is that Liverpool perhaps are prepared to pay a bit more than Real Madrid."
Bellingham would be a top-notch addition to Liverpool's midfield, which is in desperate need of reinforcements.
The 19-year-old is poised to become a superstar, and Jurgen Klopp as his manager could help him realize his enormous potential.
However, Real Madrid must prepare for a time without stars like Toni Kroos and Luka Modric.
At the center of the Spanish club's midfield, the 19-year-old England international may create a fantastic relationship with players like Eduardo Camavinga and Aurelien Tchouameni.
In other news, Liverpool could be set to seal January transfer 'soon' for World cup Break out star as the Reds proposal would test club's resolve