'It's more important' – Liverpool duo Andy Robertson and Sadio Mane react to Benfica win
'It's more important' – Liverpool duo Andy Robertson and Sadio Mane react to Benfica win
The sensational Liverpool duo Andy Robertson and Sadio Mane were fast to compliment Liverpool's victory in their Champions League quarter-final which is far from complete after the 3-1 first-leg win at Benfica on Tuesday.
Ibrahima Konate and Sadio Mane gave the reds the lead 2-0 up inside 34 minutes, with Diaz netting their third goal late after Darwin Nunez scored one back for Benfica early in the second half.
Highlights: Benfica 1-3 Liverpool
Andy Robertson
"It was a tough game. We were obviously on top [in the] first half, created good chances, probably could have went in a couple more up.
"Then we wanted to keep it tight and unfortunately we didn't manage to do that. They obviously got a goal, which lifted the crowd, lifted them and they started winning balls, we started getting a bit sloppy and things like that.
"So, the third goal was big but there's definitely still work to do. He [Diaz] got a nice reception from the start, obviously playing for one of their rivals and things like that.
"So, a good finish from him, a really important goal for us. It gives us a two-goal cushion, which makes a difference, and it's important that we make that count now.
"Next week, it's still a big game. We want to be in the semi-final and we've still got a lot of work to get there. But with our fans at our stadium, we can hopefully get the job done."
Sadio Mane
"Like I always say, the team is winning – that's more important [than me scoring].
"I scored a goal today, I'm happy but more important were the goals we scored. We're waiting for the next game and to get the job done at home.
"A great start [to the week]. We can't expect better than that and it will help us to prepare for the next game."
In other news, Liverpool boss Jurgen Klopp speaks on Manchester City clash with Burnley at Turf Moor tricky
"Not True"-Jurgen Klopp reacts to Andy Robertson's blunt claim that Liverpool are getting worse
"Not True"-Jurgen Klopp reacts to Andy Robertson's blunt claim that Liverpool are getting worse
Liverpool were beaten by Brighton for a second time in a matter of weeks, with Roberto De Zerbi's team following up their 3-0 league victory by eliminating the Reds from the FA Cup.
Andy Robertson's claim that Liverpool was getting worse after the FA Cup champions were eliminated from the competition, according to Jurgen Klopp, was neither true nor wrong.
At the Amex Stadium, Liverpool took on Brighton in an effort to defeat the Seagulls for the first time in three efforts this season. Although Harvey Elliott gave the opposition the lead, goals from Lewis Dunk and Kaoru Mitoma sent the Seagulls to the fifth round.
Reds Left-back Robertson spoke honestly about the team's recent decline following the game. Some may think that Klopp's choice of words when dismissing the Scottish international's suggestion was highly telling.
"It's not 100 per cent true but it's not 100 per cent wrong," Klopp said. Liverpool's defeat was their fourth since the World Cup, with Manchester City eliminating them from the EFL Cup and Brentford and Brighton beating them in the Premier League.
"Of course, we wanted a new start, that was clear after the World Cup. So far it hasn't happened properly, that's true.
"That means we have to keep working, there's nothing else you can do. There were good performances today as well, good moments which we need to build on."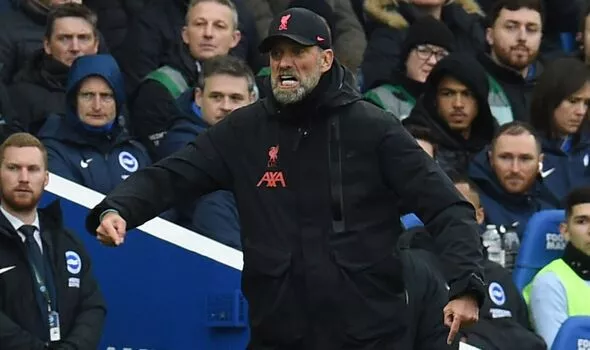 In both of Liverpool's losses to Brighton, Robertson played all 90 minutes. This time, the Merseyside club was seconds away from earning a draw and a replay when Mitoma brilliantly intercepted a cross from Pervis Estupinan and volleyed past Alisson.
"We need to start winning games," the left-back told ITV Sport. "It's easy to say, but harder to fix and it's proven that way. This season has been nowhere near good enough, at the turn of the year we wanted a new start. But it's not got off to that…it's probably been worse.
"In the league, we've not been good enough, we lost in the League Cup to Man City by one goal and now we're out of both cups. It's really disappointing. You can't put your finger on one thing because it's more than that and it's about putting a performance together where all these things click.
"You can tell we aren't as confident in front of goal and you can tell that defensively we are too open. We need to get the confidence back, but it's easier said than done.
The only way we pick up results is you have to score goals and you have to be able to keep clean sheets and we're not managing that.
"We're not managing to do that and we need to do it quickly. But we keep saying that and that doesn't help the fans. I feel sorry for them, we aren't putting a show on them at the moment."
In other news, Liverpool transfer news: Reds given Bellingham hope with last-minute deadline deal still possible