'I heard' – German journalist shares latest from Jude Bellingham camp amid Liverpool difficulties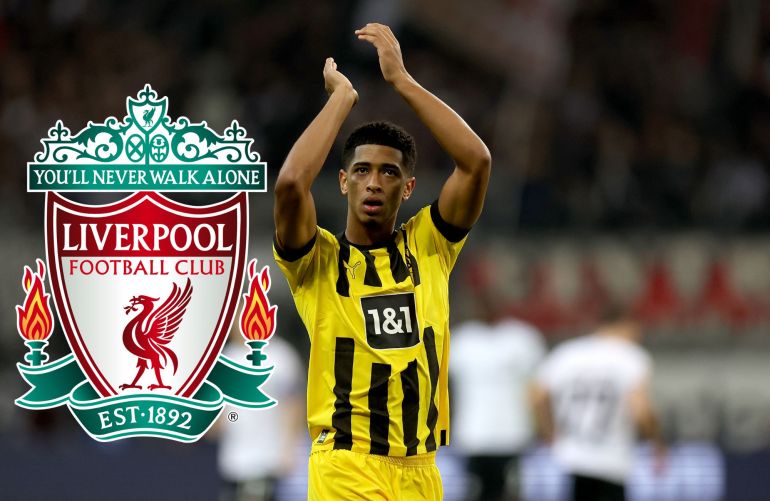 'I heard' – German journalist shares latest from Jude Bellingham camp amid Liverpool difficulties
Jude Bellingham appears to be on Liverpool's radar, and there has recently been yet another update on our potential pursuit of the Borussia Dortmund player.
German football analyst Christian Falk wrote on CaughtOffside and stated: "I heard that Jude Bellingham is keeping a very close eye on what Liverpool are doing at the moment.
I've been told nobody should think he's a player that wouldn't go to Liverpool because of the difficult situation they're in.
It's the other way around – he's actually the kind of guy who would love to go to a club where he can change their fortunes.
'At Liverpool, he sees that the club is in need of him and that he can build something there, so that's why the side remains an interesting option for him. As you see in the Premier League, they're not massively far away from the Champions League places but it's important to note that Champions League qualification isn't a deal-breaker for Bellingham. Of course, it wouldn't hurt Liverpool's chances!
'Jurgen Klopp's already mentioned in his interviews that something has to change and it's clear, when you see the positions in need of reinforcement, Liverpool need someone like Jude Bellingham.
'Everyone's talking about Liverpool's defence; okay, they're not brilliant at the moment but that's connected with the role Bellingham would potentially play in front of the backline. He's one player who could offer a multitude of solutions and would have an instant impact at Liverpool.
'He's the captain at Dortmund and if he goes to another club he might be one of many leading talents – at Liverpool he would be a leader from the first moment'.
The 19-year-old has made 29 appearances in all competitions for his club already this season, recording 10 goals and six assists – as well as being handed the captain's armband and all whilst still being a teenager.
It's no wonder that we are amongst many interested parties in the England international but this update from Germany continues to suggest that we are in a very strong position to possibly secure his signature.
If this is to be a huge summer for the Reds, then landing a player who could be tremendously influential on the pitch and also someone who is excited by the prospect of a challenge – could be the key signing for a squad rebuild.
The truth is though, there's still plenty of twists and turns ahead for this negotiation and a lot of time before we find out where the Birmingham-born teenager will be playing his football next season.
It may yet still all come down to money though and so we will have to wait and see how big Jurgen Klopp's war chest is and whether FSG secure more investment to back him further than they may currently be able to do so.
In other news, Liverpool now won't be sold says John Henry as new plans unveiled in stunning FSG u-turn