Luis Diaz sends Liverpool fans an emotional message following his last-minute transfer
Luis Diaz sends Liverpool fans an emotional message following his last-minute transfer
Luis Diaz joined Liverpool in January and made an immediate impact, winning two trophies in the process. He has now thanked the club's supporters for their support.
Luis Diaz has sent an impassioned letter to Liverpool fans, claiming that his January transfer has made "dreams come true."
The Colombian joined the Reds in the middle of the season for £40 million from Porto, beating Tottenham to his signature.
Diaz has made an immediate impact, integrating himself into the club's attacking system and offering another option for Jurgen Klopp.
His talent earned him a starting spot in the Champions League final in Paris on Saturday. He also appeared in the Carabao Cup and FA Cup finals, both of which Liverpool won on penalties, and his achievements were honored with the club's fans at a parade on Sunday.
Diaz had a lot of success in Portugal before coming to England, and he has continued that pattern. Liverpool were unable to complete the quadruple after missing out on the Premier League and Europe by the tiniest of margins in the last week of the season.
Luis Diaz, on the other hand, has praised the day he started his career with the Reds in early February and thanked fans for their warm welcome in a social media statement.
He wrote: "February 4th was the day you all welcomed me as just one more in the family. Since that day I've been dreaming awake, living what I have deeply wished for all my life.
"And now that you've showed me that dreams come true let me assure you we will keep dreaming together.
"So with all there's left to win, let it be, because in here I know: I will never walk alone."
Diaz has six goals and six assists in 26 games for the Reds, and is yet another example of the club's excellent acquisitions.
He has already received high accolades, including from Gary Neville, who praised the Colombian after only a few months in English football.
The Gary Neville said on his podcast: "Honestly, it's utterly depressing. From the moment I saw him (Diaz) play in the Carabao Cup final, which was the first time I'd seen the lad live, until you see a player live and particularly when I look at him, he's playing off the left-hand side and I look at it from a right-back's perspective.
"So, I have a pretty good eye about what I wouldn't have liked and what I would like I thought 'oh my God, what a player he is!' His tenacity, his skill, his pace, his fight, his spirit, everything! He's cost not a lot again. They (Liverpool) have found another one!"
In other news, "If anyone deserves to win" – Luis Enrique makes bold claim ahead of Liverpool vs Real Madrid champions league final
"Not True"-Jurgen Klopp reacts to Andy Robertson's blunt claim that Liverpool are getting worse
"Not True"-Jurgen Klopp reacts to Andy Robertson's blunt claim that Liverpool are getting worse
Liverpool were beaten by Brighton for a second time in a matter of weeks, with Roberto De Zerbi's team following up their 3-0 league victory by eliminating the Reds from the FA Cup.
Andy Robertson's claim that Liverpool was getting worse after the FA Cup champions were eliminated from the competition, according to Jurgen Klopp, was neither true nor wrong.
At the Amex Stadium, Liverpool took on Brighton in an effort to defeat the Seagulls for the first time in three efforts this season. Although Harvey Elliott gave the opposition the lead, goals from Lewis Dunk and Kaoru Mitoma sent the Seagulls to the fifth round.
Reds Left-back Robertson spoke honestly about the team's recent decline following the game. Some may think that Klopp's choice of words when dismissing the Scottish international's suggestion was highly telling.
"It's not 100 per cent true but it's not 100 per cent wrong," Klopp said. Liverpool's defeat was their fourth since the World Cup, with Manchester City eliminating them from the EFL Cup and Brentford and Brighton beating them in the Premier League.
"Of course, we wanted a new start, that was clear after the World Cup. So far it hasn't happened properly, that's true.
"That means we have to keep working, there's nothing else you can do. There were good performances today as well, good moments which we need to build on."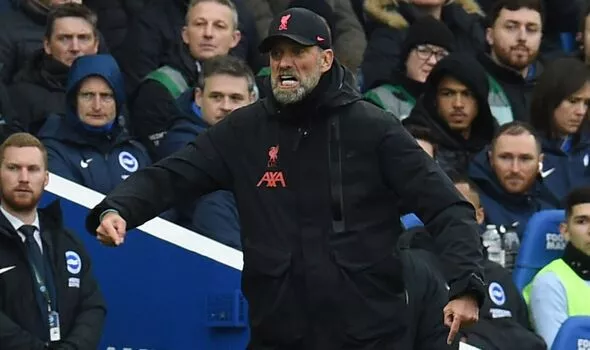 In both of Liverpool's losses to Brighton, Robertson played all 90 minutes. This time, the Merseyside club was seconds away from earning a draw and a replay when Mitoma brilliantly intercepted a cross from Pervis Estupinan and volleyed past Alisson.
"We need to start winning games," the left-back told ITV Sport. "It's easy to say, but harder to fix and it's proven that way. This season has been nowhere near good enough, at the turn of the year we wanted a new start. But it's not got off to that…it's probably been worse.
"In the league, we've not been good enough, we lost in the League Cup to Man City by one goal and now we're out of both cups. It's really disappointing. You can't put your finger on one thing because it's more than that and it's about putting a performance together where all these things click.
"You can tell we aren't as confident in front of goal and you can tell that defensively we are too open. We need to get the confidence back, but it's easier said than done.
The only way we pick up results is you have to score goals and you have to be able to keep clean sheets and we're not managing that.
"We're not managing to do that and we need to do it quickly. But we keep saying that and that doesn't help the fans. I feel sorry for them, we aren't putting a show on them at the moment."
In other news, Liverpool transfer news: Reds given Bellingham hope with last-minute deadline deal still possible