Liverpool edge closer to incredible striker coup after agreed deal for double Dortmund delight
Liverpool edge closer to incredible striker coup after agreed deal for double Dortmund delight
A deal is 'in place' that has laid the foundations for Liverpool to sign Youssoufa Moukoko, and Jurgen Klopp has been told to read FSG the riot act in order to make it a double in January.
In recent weeks, talk of Liverpool making a move for the sensational 17-year-old striker has grown.
The German youth international, whose contract with Dortmund is set to expire next summer, has reportedly left Klopp speechless.
His contract situation is far from clear; according to Monday's Euro Paper Talk, Moukoko might decline to agree to new conditions due to an internal family conflict.
In that case, Dortmund might be compelled to sell in January in order to keep Moukoko from becoming a free agent in eight months.
This year, Moukoko has started more frequently than not at the offensive frontline for Dortmund. In 10 Bundesliga games this season, he has four goals and three assists, including a crucial goal in the 2-2 draw against fierce rivals Bayern Munich on October 8.
PSG and Real Madrid too are known admirers of the teenage superstar.
However, according to Football Insider, a move to England, and by extension Liverpool, is now on the cards.
This is because Moukoko allegedly agreed to a contract to join the English football agency Unique Sports Management when he turns 18 the following month.
According to reports, this will "pave the way" for a transfer to the Premier League, and Liverpool is the only English team that has been placed in strong consideration as a potential suitor for his services.
How much Liverpool will have to pay to sign Moukoko is not known. His tremendous potential would indicate that a deal wouldn't be cheap, but Dortmund's position would be weakened by the fact that he will only have six months left on his contract by January.
Moukoko is not the only Dortmund star on Liverpool's radar.
Jude Bellingham is also a target as well. Also common knowledge is Liverpool's desperate need of a midfield overhaul.
Bellingham, 19, has emerged as the club's primary target to lead the next stage of evolution in Klopp's midfield.
Chelsea, Man Utd, Man City and Real Madrid will all push to sign the England ace, and a recent report from the Times.
Former Premier League goalkeeper, Paul Robinson, has urged Klopp to bang FSG's doors down and urge them to act fast in January.
Robinson expects both players to leave Dortmund in the summer – not winter – though that shouldn't prevent Liverpool from trying.
"They are both summer moves," admitted Robinson.
"I cannot see how that is going to get done in January. To have any chance of signing either player in January you are going to overpay for them.
"Bellingham and Liverpool are a great fit. He is a type of player who would flourish under Jurgen Klopp. They are crying out for a player like Bellingham.
"If I was them, I would pay over the odds to get him in January. They are so short in that area. They are not performing well.
"If I was Jurgen Klopp I would be banging the owners' door down to get that bit extra to get it over the line in January. They need Bellingham as soon as possible."
In other news, Liverpool star Darwin Nunez reveals six-word advice Luis Suarez shared on the phone with him
Liverpool transfer: Enzo Fernandez and Bellingham contact made as Chelsea plan Nunes hijack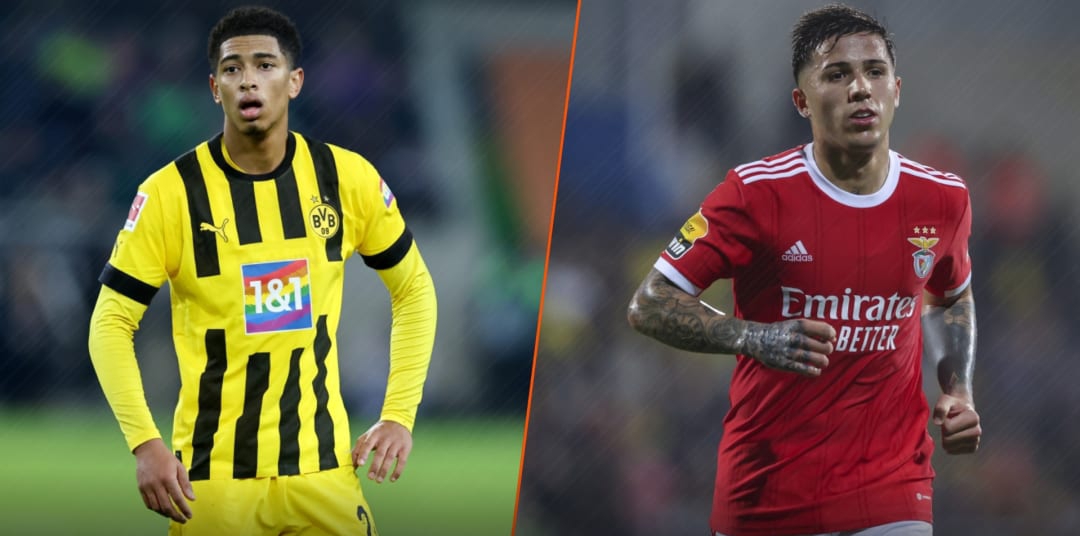 Liverpool transfer: Enzo Fernandez and Bellingham contact made as Chelsea plan Nunes hijack
Liverpool have been one of the quietest clubs in the January transfer window, having completed just one signing but contact has been made for Jude Bellingham and Enzo Fernandez
This month, Jurgen Klopp might be prepared to make a few more acquisitions.
Just a few days remain until the transfer market closes, and Liverpool may yet be prepared to make other moves.
So far this month, the Reds have only brought Cody Gakpo to Anfield in a deal estimated to be for £45 million.
Jurgen Klopp acted quickly to sabotage Manchester United's potential approach for the Dutch international after Luis Diaz and Diogo Jota suffered injuries.
Amid the Reds' troubles in that area, there has been considerable discussion about the necessity to sign a midfielder in January.
But despite links with Enzo Fernandez, Moises Caicedo and Jude Bellingham, the Reds haven't been able to sign one of those yet.
Liverpool held contact with Benfica and Dortmund
Liverpool have reportedly held talks with both Benfica and Borussia Dortmund over potentially signing Enzo Fernandez and Jude Bellingham this month.
The Reds have been linked with moves for Fernandez and Bellingham in the January transfer window as Jurgen Klopp tries to bolster his midfield options. However, with time ticking down until deadline day, it is looking increasingly unlikely that the Reds will be able to get a deal over the line before January 31.
It is understood the Reds have been working hard behind the scenes to sign a midfielder – and it has been revealed they held negotiations with Benfica and Dortmund for those two players.
Speaking to Empire of the Kop, Anas Bakhkhar from Foot Mercato said:
"Just to remind everyone, there was a positive meeting during the World Cup between Amrabat's entourage and Liverpool but unfortunately, his agent thought that Liverpool were linked with a lot of midfielders during this transfer window – like Jude Bellingham and Enzo Fernandez and Liverpool were having discussions with Borussia Dortmund and Benfica."
Chelsea plan Nunes hijack
Chelsea plans to upset another member of the so-called "Big Six" by entering the competition to recruit Matheus Nunes, a midfielder for Wolves.
The 24-year-old Portugal international cannot leave Molineux in January because he has already played for two clubs this year. However, Liverpool has shortlisted him for a transfer. Before joining Wolves for £38 million in August of last year, Nunes played in two games for his previous club Sporting Lisbon.
According to the Daily Mail, Chelsea is interested in Nunes and may compete with Liverpool for his services this summer. Both teams are trying to strengthen their respective squads since they are both fourth in the Premier League, 10 points behind Manchester United.
Jurgen Klopp has admitted Liverpool do not have a budget that can challenge the Premier League's richest sides, including Chelsea.
The Blues have been the biggest spenders in Europe since Boehly's takeover last summer, investing more than £400m in players.
In other news, Liverpool set to submit massive offer to sign £75,000-a-week star before deadline