"It's not like this" – Watch Liverpool boss jurgen klopp sends Eric Ten Hag an 'only one tip' message on how to improve Manchester United ahead of their Premier league clash
"It's not like this" – Watch Liverpool boss jurgen klopp sends Eric Ten Hag an 'only one tip' message on how to improve Manchester United ahead of their Premier league clash
Liverpool boss Jurgen Klopp gives Erik ten Hag "only" one tip to improve Man Utd
On Monday night, a crucial Premier League match between Liverpool and Manchester United will take place. Both teams have lost their first two games.
Erik ten Hag, the struggling new manager of Manchester United, is the subject of sympathy, according to Jurgen Klopp.
If he is unable to stop a dreadful start at Old Trafford in which United has been beaten by both Brighton and Brentford, Klopp has warned the Dutchman to beware the Premier League "sharks" who would want to swallow him whole.
However, the Liverpool manager acknowledged that if he can make Ten Hag's issues worse when he leads his club to Manchester on Monday night, sympathy will be hard to come by.
When asked if he had any consolation for his new adversary, Klopp replied, "No, I have not. We all have problems; these problems are related to football.
"I'm not sure that if you went to Manchester United you could ask Ten Hag if he thinks we have a few injuries too many.
"It's not like this. The football world is a sea full of sharks. It is not necessary that I feel sympathy.
"It will not help them or harm them that I don't. We all have our own problems and that's it."
Klopp added: "When I arrived here seven years ago, I don't think we hit the ground running. It wasn't 'oh God, you can see it immediately'.
"What I can say is that I didn't read anything – and that makes it easier because you know that when you're not over the moon about your own results, you don't care what people say.
"You don't have to read it. You don't have to be fussed by it. You focus on work and go for the little steps.
"I am pretty sure that it's the same for each club. I don't think it's anything different for bigger clubs. Sure, if you lose then the first five articles in newspapers are about that.
"But if you are strong enough not to read that then you can have an okay life and just work on the important stuff.
"So that's what I have done for seven years and that helps me. That is the only advice I could give."
"It is not my cup of tea," said Klopp. "I can't sit here four days before we play United and create headlines.
"If I say 'yes' it's just a matter of telling them how to do it. If I say 'no' then we have a real mess.
"You can ask me if we could play Pep Guardiola-football – and if I could coach like that then it could be possible.
"But I have nothing to say about Manchester United. It's not my subject."
But Klopp's revelation that it took him just a single training session to get his message across to the squad he took over in October 2015 will resonate with Ten Hag.
"It was a Saturday game and we only had two days because the players came back from internationals after the Wednesday.
We had the Thursday and Friday, not really to train but to recover. We had one training session.
"But for the first impression of an idea it was outstanding. I can still see Adam Lallana flying around pressing everyone who wore a different shirt. That was really cool.
In other news, Watch Jurgen Klopp furious as he admits Darwin Nunez will have to be out for a long time
"Not True"-Jurgen Klopp reacts to Andy Robertson's blunt claim that Liverpool are getting worse
"Not True"-Jurgen Klopp reacts to Andy Robertson's blunt claim that Liverpool are getting worse
Liverpool were beaten by Brighton for a second time in a matter of weeks, with Roberto De Zerbi's team following up their 3-0 league victory by eliminating the Reds from the FA Cup.
Andy Robertson's claim that Liverpool was getting worse after the FA Cup champions were eliminated from the competition, according to Jurgen Klopp, was neither true nor wrong.
At the Amex Stadium, Liverpool took on Brighton in an effort to defeat the Seagulls for the first time in three efforts this season. Although Harvey Elliott gave the opposition the lead, goals from Lewis Dunk and Kaoru Mitoma sent the Seagulls to the fifth round.
Reds Left-back Robertson spoke honestly about the team's recent decline following the game. Some may think that Klopp's choice of words when dismissing the Scottish international's suggestion was highly telling.
"It's not 100 per cent true but it's not 100 per cent wrong," Klopp said. Liverpool's defeat was their fourth since the World Cup, with Manchester City eliminating them from the EFL Cup and Brentford and Brighton beating them in the Premier League.
"Of course, we wanted a new start, that was clear after the World Cup. So far it hasn't happened properly, that's true.
"That means we have to keep working, there's nothing else you can do. There were good performances today as well, good moments which we need to build on."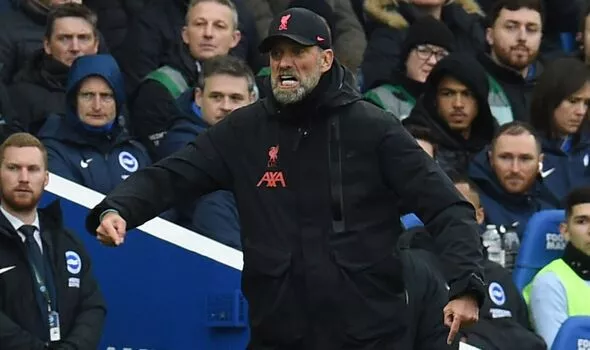 In both of Liverpool's losses to Brighton, Robertson played all 90 minutes. This time, the Merseyside club was seconds away from earning a draw and a replay when Mitoma brilliantly intercepted a cross from Pervis Estupinan and volleyed past Alisson.
"We need to start winning games," the left-back told ITV Sport. "It's easy to say, but harder to fix and it's proven that way. This season has been nowhere near good enough, at the turn of the year we wanted a new start. But it's not got off to that…it's probably been worse.
"In the league, we've not been good enough, we lost in the League Cup to Man City by one goal and now we're out of both cups. It's really disappointing. You can't put your finger on one thing because it's more than that and it's about putting a performance together where all these things click.
"You can tell we aren't as confident in front of goal and you can tell that defensively we are too open. We need to get the confidence back, but it's easier said than done.
The only way we pick up results is you have to score goals and you have to be able to keep clean sheets and we're not managing that.
"We're not managing to do that and we need to do it quickly. But we keep saying that and that doesn't help the fans. I feel sorry for them, we aren't putting a show on them at the moment."
In other news, Liverpool transfer news: Reds given Bellingham hope with last-minute deadline deal still possible