Arsene Wenger picks 2 Liverpool stars who failed to impress against Real Madrid.
Arsene Wenger picks 2 Liverpool stars who failed to impress against Real Madrid.
Mohamed Salah and Sadio Mane, according to former Arsenal manager Arsene Wenger, were below average in Liverpool's UEFA Champions League final defeat to Real Madrid.
The Reds were defeated 1-0 by the Spanish champions at the Stade de France in Paris on Saturday, thanks to a goal from Vinicius Junior in the second half.
Jurgen Klopp's team was statistically the more dominant, with 24 shots (six times more than Real Madrid) and controlling 54 percent of the ball.
They were unable to locate the back of the net, however. That's because Madrid goalkeeper Thibaut Courtois was in top form, making a record nine stops in a 'Man of the Match' effort to keep Liverpool at bay.
Salah was denied a several opportunities by Courtois, who also made a fantastic stop from Mane in the first half. That, according to Wenger, is why Liverpool's talismans failed to impress on the night.
Speaking on beIN Sports, the Frenchman said (via Liverpool Echo):
"You felt as well that Salah, Mane, the guys who make the difference, didn't have the same freshness, the same belief that they can make the difference. Overall they came short, we must be honest, because of Courtois.
He continued:
"I felt at some stage that if Liverpool came back to 1-1, they'd come back and win the game.
"But they never found that special moment where they could finish their chances off, and a lot of that is down to Courtois."
Salah and Mane have had fantastic seasons on their own. In 51 appearances, the Egyptian scored 31 goals and added 16 assists, while Mane scored 23 goals and added five assists.
However, neither player was able to match Madrid on the night, and the Reds were defeated in another European final.
More crucially, the loss jeopardizes the duo's prospects of winning the Ballon d'Or, with Whites striker Karim Benzema now firmly in the driver's seat.
In other news, Jurgen Klopp has pinpointed key reasons behind Liverpool's defeat to Real Madrid, and he has a simple solution
"Not True"-Jurgen Klopp reacts to Andy Robertson's blunt claim that Liverpool are getting worse
"Not True"-Jurgen Klopp reacts to Andy Robertson's blunt claim that Liverpool are getting worse
Liverpool were beaten by Brighton for a second time in a matter of weeks, with Roberto De Zerbi's team following up their 3-0 league victory by eliminating the Reds from the FA Cup.
Andy Robertson's claim that Liverpool was getting worse after the FA Cup champions were eliminated from the competition, according to Jurgen Klopp, was neither true nor wrong.
At the Amex Stadium, Liverpool took on Brighton in an effort to defeat the Seagulls for the first time in three efforts this season. Although Harvey Elliott gave the opposition the lead, goals from Lewis Dunk and Kaoru Mitoma sent the Seagulls to the fifth round.
Reds Left-back Robertson spoke honestly about the team's recent decline following the game. Some may think that Klopp's choice of words when dismissing the Scottish international's suggestion was highly telling.
"It's not 100 per cent true but it's not 100 per cent wrong," Klopp said. Liverpool's defeat was their fourth since the World Cup, with Manchester City eliminating them from the EFL Cup and Brentford and Brighton beating them in the Premier League.
"Of course, we wanted a new start, that was clear after the World Cup. So far it hasn't happened properly, that's true.
"That means we have to keep working, there's nothing else you can do. There were good performances today as well, good moments which we need to build on."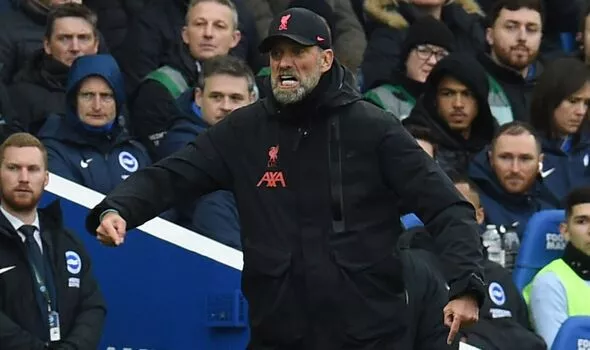 In both of Liverpool's losses to Brighton, Robertson played all 90 minutes. This time, the Merseyside club was seconds away from earning a draw and a replay when Mitoma brilliantly intercepted a cross from Pervis Estupinan and volleyed past Alisson.
"We need to start winning games," the left-back told ITV Sport. "It's easy to say, but harder to fix and it's proven that way. This season has been nowhere near good enough, at the turn of the year we wanted a new start. But it's not got off to that…it's probably been worse.
"In the league, we've not been good enough, we lost in the League Cup to Man City by one goal and now we're out of both cups. It's really disappointing. You can't put your finger on one thing because it's more than that and it's about putting a performance together where all these things click.
"You can tell we aren't as confident in front of goal and you can tell that defensively we are too open. We need to get the confidence back, but it's easier said than done.
The only way we pick up results is you have to score goals and you have to be able to keep clean sheets and we're not managing that.
"We're not managing to do that and we need to do it quickly. But we keep saying that and that doesn't help the fans. I feel sorry for them, we aren't putting a show on them at the moment."
In other news, Liverpool transfer news: Reds given Bellingham hope with last-minute deadline deal still possible