Jurgen Klopp to drop Liverpool star after he "gave it up" in shocking defeat to Bournemouth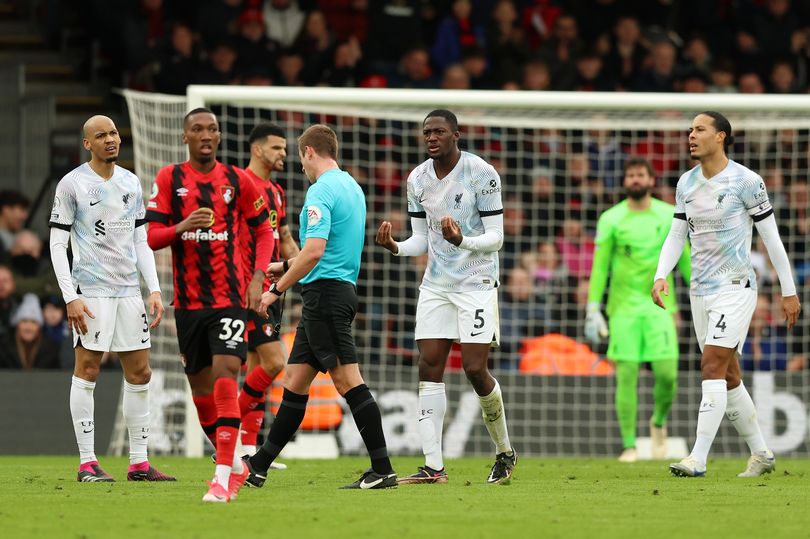 Jurgen Klopp to drop Liverpool star after he "gave it up" in shocking defeat to Bournemouth
Scott Minto urges Jurgen Klopp to drop Red star Virgil van Dijk if the star defender is not fit after he 'gave it up' against Bournemouth. Dango Ouattara took advantage of Philip Billing's goal.
In the 28th minute of Saturday's South Coast Premier League match, Billing gave the Cherries the lead. When Bournemouth took advantage of the Reds' high backline, Ouattara burst through the Liverpool defense. The forward had room to attack after receiving a straightforward pass over the top.
After Van Dijk was unable to locate the attacker, a VAR review revealed that Ouattara had timed his run perfectly. Before cutting a cross to Billing in the six-yard box, Ibrahima Konate played the 20-year-old onside. To sidefoot his shot in, the midfielder dashed into the penalty area.
Van Dijk astounded Minto after not running back with Ouattara as Bournemouth took the lead against Liverpool through Billing's goal.
The former Chelsea defender felt as if the 31-year-old had thrown in the towel and may not be in a state to start under Klopp right now.
"The pace of Ouattara in behind, it's a high line and a simple ball over the top," Minto told talkSPORT (11/3, 13:00). "I don't know what Van Dijk was doing. It looked like he gave it up there. I really don't know what Van Dijk was doing.
"He didn't seem to stay with Ouattara at all. Of course, he's a key member of the squad and one of the best center-backs in world football. But he has been complaining about fitness and the schedule. If he's not right, rest him! That's what a big squad is for."
Van Dijk made his 30th appearance in the current campaign under Klopp when Liverpool traveled to Bournemouth on Saturday. 22 of the Reds' 26 Premier League games have seen him on the field. The star from the Netherlands has participated in all seven of their Champions League games.
Due to a hamstring injury, Van Dijk missed three Premier League games in January and February. On his comeback to their matchday squad for the Merseyside derby against Everton, which the Reds won 2-0, Klopp would only name the defender as an unused substitute.
But Van Dijk maintained his instrumental presence as Liverpool visited Bournemouth, only for Ouattara to feed Billing from his mistake. The centre-half also told The Telegraph at the start of March that he should have taken a break before and after the World Cup in Qatar.
He admitted: "Coming back from the knee injury, I played all the Premier League games because everybody wants to be out there and I want to be out there.