Jude Bellingham to Liverpool transfer: 'Leading race' claim as massive contract 'prepared'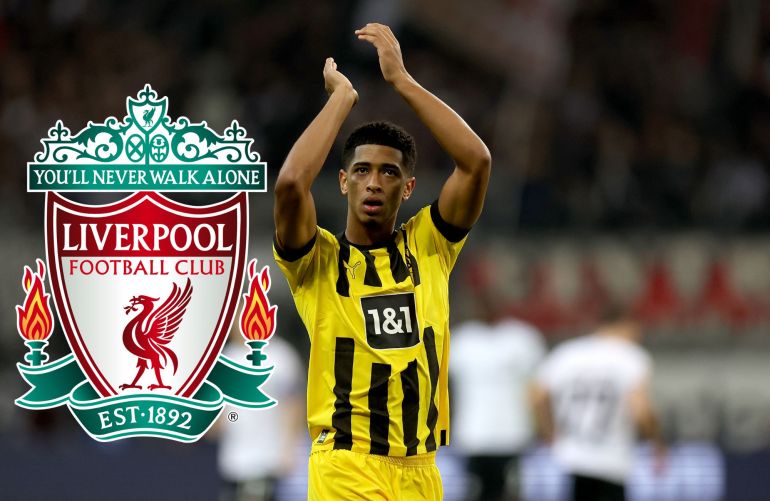 Jude Bellingham to Liverpool transfer: 'Leading race' claim as massive contract 'prepared'
Liverpool still has high hopes for a far more prosperous summer despite a dismal lack of transfer activity in the latter weeks of this month. Gody Gakpo joined the Reds from PSV in January's lone acquisition.
Fans have urged Liverpool to strengthen their midfield as they attempt to rebuild an aging group after they struggled mightily in the first half of the Premier League season.
Jude Bellingham remains a top focus for Jurgen Klopp's team despite the fact that they have been connected with a lot of celebrities in recent months.
We examine the situation with about six months to go before Liverpool may take official action to entice the teenage wonder to Anfield.
Borussia Dortmund 'planning' talks
Despite Jude Bellingham looking all but set to leave the Bundesliga this summer, Borussia Dortmund still hold some hope that they can keep hold of the prized asset.
The club are eager to offer him a new deal that would make him their top earner with a €15m offer.
It is thought that Bellingham only makes around £49,000-per-week at the Signa Iduna Park, significantly less than a number of Dortmund players – with the likes of Sebastien Haller, Niklas Sule and Julian Brandt earning over double Bellingham's salary.
: "Dortmund still have a bit of hope that Jude Bellingham could stay – they want to make him a new offer where he would become the top earner at the club with €15m. They're planning talks in March now.
"His family is thinking about the future and they're well aware that the next step has to come in the summer because it can't be much better for Bellingham in the Bundesliga."
Liverpool 'leading' race
Jude Bellingham's pursuit has been a protracted and stressful one for all of the clubs involved. According to earlier reports, the midfielder was about to decide on Liverpool before Real Madrid assumed "pole position" a few weeks later.
Fabrizio Romano claims that the Reds are once again in the lead in the race to sign the England international following the most recent development in their pursuit. The journalist commented on the Born and Red YouTube channel:
"Today? I would mention Liverpool. But we know how these transfers can change.
"So today Liverpool are leading the race but the race is still absolutely open. And when you are in the race with Real Madrid and Manchester City, it's never a safe race until you sign the contracts."
In other news, Liverpool transfer target Sofyan Amrabat;set for massive deadline day move